Alain FALC (1958) : Chairman of the Board of Directors
An engineering graduate in electronics (ISEN 1981)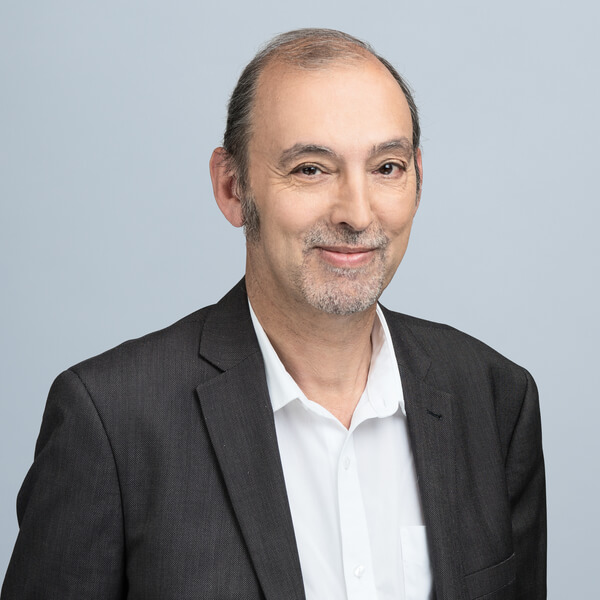 Alain Falc founded Bigben Interactive in 1981 when he finished his studies and rapidly acquired industrial and commercial know-how in watches and other promotional electronic products. In 1993, he moved into the budding video games sector.
By 1999, when it was floated on the stock exchange, Bigben Interactive was one of the leading designers and manufacturers of accessories for third-party video games consoles (i.e. not made by the console manufacturers) in France. After its IPO, Bigben Interactive continued to expand internationally, with operations in the Benelux, the United Kingdom, Germany, Hong Kong, Spain and Italy.
Having gradually built up the video games publishing business over the following decade, in 2011 Alain Falc acquired the smartphone accessories design and distribution business of ModeLabs, the French leader in smartphone accessories, which became Bigben Connected in May 2013.
He then took the Bigben Group in another strategic direction in 2018-2019 through the acquisition of interests in five development studios: Cyanide, Eko Software, Kylotonn KT Racing, Spiders and RaceWard. In 2019, he successfully engineered the creation of NACON, the Bigben Group's integrated Gaming division and its successful IPO in March 2020.
Sébastien Bolloré: Director
ISEG, UCLA (California)
Managerial expertise and experience
After studying at Gerson and Saint-Jean-de-Passy, Sébastien Bolloré obtained his baccalauréat and studied management at ISEG and then UCLA (California). Sébastien Bolloré spends most of his time in Australia, and advises the Bolloré group based on his knowledge of new media and technological developments.
He has been a director of Bigben Interactive SA since his appointment by the AGM of 28 July 2010.
Jean Marie de Chérade: Independent Director
A graduate agronomist and the holder of both a master's degree in natural sciences and a DEA postgraduate diploma in marketing, management and business administration.
After serving as an assistant at the chair for agri-food marketing at CESA (the HEC-ISA Group's Higher Education Centre for Business), Jean-Marie de Chérade became a consultant at the World Bank overseeing projects for West Africa.
He then joined the corporate world where he became among other things chairman and co-founder of the EOS marketing company. He is now an independent consultant and performs various assignments mainly in the real estate industry.
He has been a director of Bigben Interactive SA since his appointment by the AGM of 28 July 2008.
Jacqueline De Vrieze: Director
Self-taught
After working in the personal care industry (in a hair salon and beauty parlour) between 1976 and 1987, Jacqueline De Vrieze set up a fitness and beauty treatment company within a gym.
In 1989, she joined the retail chain that is now known as Games.fr, as head of the store network before becoming the company's CEO in 1995. She led the transformation of the store network into a retail website in the early 2010s.
Angélique Gérard: Independent Director
A graduate of the European Institute of Business Administration (INSEAD) and trained as a top executive at the (HEC) Business School, Angélique Gérard joined the Iliad Group in early 2000, after four years at France Telecom.
Fundamental in the creation of the contact centers of the Iliad Group, she set up and ensured the development of the subscriber service before managing the integration of the corresponding resources of the operator Alice after its acquisition in 2008. She is now Head of Subscriber Relations at Free, a member of the Executive Committee of Iliad (holding), of which she is a founding manager and CEO of several subsidiaries of the Iliad Group.
Also a lecturer, an author of books with managerial and societal connotations, she is very involved as a Business Angel with entrepreneurs which she accompanies in sectors such as high-tech, collaborative economy and hotel & catering services. She joined the supervisory boards of Europcar in 2015 and then Babilou in 2017, the first group of business and community nurseries in France.
Sylvie Pannetier: Director
The holder of a DECF degree in accounting and financial studies.
After completing her studies, Sylvie Pannetier joined Bigben Interactive in February 1995 in the finance department and has held roles in supplier accounting, treasury and credit management in her 20 years at the company.
She now manages a team of nine people and is in charge of the Group's Treasury department as well as credit management at Bigben Interactive, Bigben Connected and Nacon.
She has been a director of Bigben Interactive since her appointment by the AGM of 31 August 2015.
Jean-Christophe Thiéry: Director
A graduate of Sciences-Po Paris and the holder of a degree in public administration from ENA.
After starting his career in local government, Jean Christophe Thiéry joined the Bolloré group in 2002 and became CEO of the Direct 8 TV channel in 2005.
He was appointed Chairman of Bolloré Média (media division of the Bolloré group) in November 2008, taking over from Vincent Bolloré, with the brief of continuing its consolidation and growth in the media and telecoms industry. Jean Christophe Thiery is also CEO of the Bolloré group's communications and media division and Chairman of Canal+'s Supervisory Board.
He has been a director of Bigben Interactive SA since his appointment by the AGM of 26 July 2012.